To rock artists and fans, the 60th Annual Grammy Awards on Sunday, Jan 28th, was an evening full of nostalgia, surprises and sadness.
Foo Fighters on Red Carpet (Photo Credit: Grammys)
Foo Fighters made a comeback last year with their new single "Run", and the song won them Best Rock Song on Sunday and their 11th Grammy. Among their nine albums, four have won Grammys for Best Rock Album. Interestingly, in the music video of "Run", all band members appear as their elderly versions. Having been active for over 20 years, the band questions themselves as they start to look older, and the drummer, Taylor Hawkins, proposed to make themselves look older in their music video intentionally.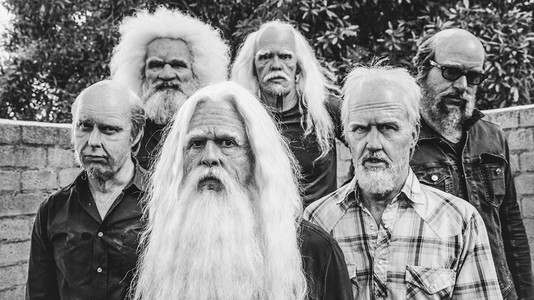 Foo Fighters in "Run" Music Video
The Atlanta heavy metal band, Mastodon, won their first Grammy for Best Metal Performance for "Sultan's Curse" after five nominations. "Thank you to JUDAS PRIEST and BLACK SABBATH for creating this kind of music that we call home," drummer Brann Dailor said during their award speech.
Mastodon (Photograph by Nicholas Hunt/Getty Images for NARAS)
Prior to Sunday evening, very few people knew of the indie band The War On Drugs. Founded in 2005 in Philadelphia, the band achieved something special with their fourth album, A Deeper Understanding. The "guitar-heavy, sonically layered masterpiece" earned them their first-ever Grammy nomination and a win for Best Rock Album (Grammy). "I had something in the back of my mind that felt like maybe we'd win, but that didn't change the fact that I was definitely surprised." TWOD's leader, Adam Granduciel said in his interview with Pitchfork, "Obviously we were psyched about it and honored."
The War On Drugs (photo by Shawn Brackbill)
Canadian Jewish rock legend Leonard Cohen won his first personal Grammy posthumously for Best Rock Performance. The winning album "You Want It Darker" came just three weeks before Cohen passed away at age 82 in November 2016 (Yahoo). As a poetic and profound masterpiece, his last album was ranked 9th Best Album of 2016 by Rolling Stone.
Leonard Cohen (Photo Credit: Grammy)
Cohen is not the only musician that was mourned on Sunday Evening during the Grammys. Another nominee for Best Rock Performance, Chris Cornell also passed away in 2017. Carrie Fisher, who died in December 2016, won the Grammy Award for Best Spoken Word Album. Chris Stapleton, winning three country awards, said to reporter backstage, "We lost a lot of great artists this year, so much tragedy this year." Having toured with rock artist Tom Petty who passed away last year, Stapleton performed a tribute for Petty (Fox News).
Chris Stapleton and Emmylou Harris perform "Wildflowers" during an In Memoriam tribute to Tom Petty. (Photo Credit: AP)
---
References:
https://www.rollingstone.com/music/lists/50-best-albums-of-2016-w451265/leonard-cohen-you-want-it-darker-w451314
https://www.yahoo.com/news/leonard-cohen-wins-first-grammy-death-224735338.html
http://www.foxnews.com/entertainment/2018/01/28/grammy-winner-chris-stapleton-talks-tom-petty-tribute-lost-lot-great-artists-this-year.html
https://www.yahoo.com/entertainment/war-drugs-adam-granduciel-winning-011734488.html