Since 1991, Los Angeles County Museum of Art (LACMA) has offered free Friday Jazz Nights during the summer. The events series is a celebration of the art of jazz with leading jazz musicians in Southern California and has featured such legends as Jazz guitarist Kenny Burrell, saxophonist Wayne Shorter, classical double bassist John Clayton, pianist Les McCann, pianist Billy Childs, and jazz band Cannonball-Coltrane Project.
The program, hosted from April through November, attracts over 42,000 visitors annually. Over the years, it has evolved into a true L.A. rite of passage during the summer time.
This year's Jazz Nights at LACMA is going to end on November 24th. Having featured Gordon Goodwin's Big Phat Band (April 21st), jazz guitarist Wolfgang Schalk (June 16th), vocalist Angie Wells (June 30th) and Jeff Parker Quartet (October 6th), the program will close with veteran saxophonist Kim Richmond and his septet with special guest vocalist Kimberly Ford. The performance will feature some classic works of Herbie Hancock and Joni Mitchell. Songs from Richmond's latest recording, Inner Spirit, are also included.
Kim Richmond (credit: kimrichmond.com)
Before the annual events end, grab the last chance to enjoy some free jazz on a cozy Friday night. The last two events of the year would begin at 6 pm on November 17th and 24th. Get there early to take a spot, since it will be a crowd. Don't forget blankets, beach towels, sweaters, folding chairs… anything comfy, so that you can lounge and picnic on the grass while listening to the jazz.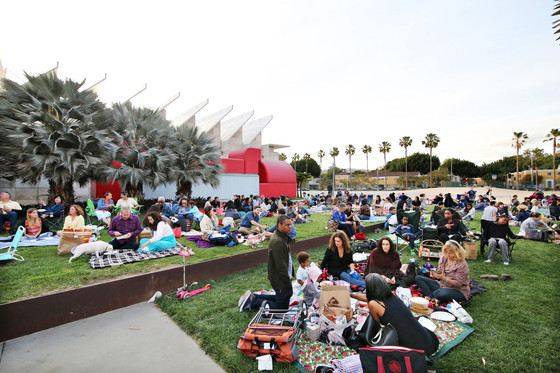 (Photo credit: LACMA)
You are welcome to bring your own snacks, but you can also enjoy some great appetizers from Ray's and Stark Bar at LACMA's front gate. And the museum is free to all Los Angeles County residents after 5 p.m. on Fridays, so be sure to check out the galleries! After the events, don't forget to take some pictures with your loved ones at L.A.'s iconic spot Urban Lights too!
(Photo credit: Los Angeles Times)
LACMA location:
5905 Wilshire Boulevard, Los Angeles, CA 90036
Friday Hours: 11 am–8 pm
Parking for LACMA is located at the Pritzker Parking Garage on Sixth Street, just east of Fairfax Avenue, and on the corner of Wilshire Boulevard at Spaulding Avenue. Parking is free after 7 pm entry.